Home Events JUDO SHOPS The Poster Shop FREE Picture Catalogue FREE JUDO CLUB T-Shirts HERE
JUDO SUITS INTERNATIONAL JUDO SUITS UK
---
WORLDWIDE Top Judo CHAMPIONS
Top Judo Inspires You to Aim for the Top. When You Win and your wearing a Top Judo Suit or Top T Badge on your judo suit, let us know. We will put your picture here and follow your progress to the Top. Local, National or International. Young or Old, Meek or Bold. We will watch your progress. Email your picture, results and a short description and the World Will Watch Your Progress.
Junior Judo Champions Senior Judo Champions Masters Judo Champions
---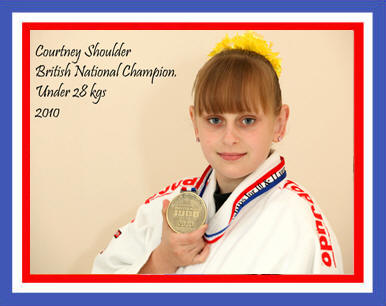 Courtney Shoulder GBR
British National Champion -28kg 2010
What an Exciting Start in this part of our web site, the junior champions section. Courtney Shoulder was one of the very first EVER to have purchased our brand new 'Competitors Choice' judo suit. Available from this web site NOW. Wow, we like to think Top Judo Inspires you to reach for the Top. Courtney is certainly an inspiration to all young girl would be competitors. We wish her luck with her continued success.
---
We Want Your Picture HERE. Send it in.